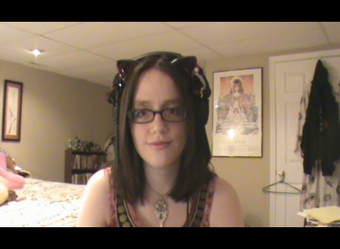 Christine "The Cat" Thompson is a contributor for Channel Awesome and one of the hosts of Nerd to the Third Power, a podcast featured on That Guy With the Glasses. She is also the newest co-host on the Thespian Talk podcast as well.
Thespian Talk
Edit
Cat was a guest on the fifth episode of the new version of Thespian Talk. Cat also reappeared as a guest on the 21st episode of Thespian Talk and become a co-host of the show starting episode 24.
Crossovers and Cameos
Edit
To date, Cat has made four appearances in Play It to the Back Row, produced by Gomer the Ranting Thespian .
Low-G-Man
Madea's Family Reunion - The Play
Hairspray 2007
Footloose 2011